BENOCS Flow Analytics helps you solve network visibility challenges by letting you inspect traffic flows in their entirety. This means from source to destination and includes how traffic enters, traverses and exits the network backbone. Using a 'top down' approach, you gain a holistic view of your traffic across multiple dimensions to find and react to traffic anomalies fast, or identify new business opportunities in just a few clicks. The intuitive flow-based model makes it easy to share network information with your colleagues, regardless of their role or background.
We believe knowing your network should not be limited to those with a technical background. Instead, it should be available to and understood by all. From technicians configuring BGP sessions to commercial sales managers, everyone should know their network traffic and be aware of the impact of their business decisions.
Who is BENOCS Flow Analytics for
BENOCS Flow Analytics is built for
who want to provide their customers with the best quality of service without failures or delays, while optimizing their interconnections like transit and peering.
With network analytics, you can find new customers, prevent network failures, locate incidents, analyze traffic level utilization, and find answers to questions you didn't even know you had. Therefore, providing your customers with the best possible service while saving you valuable time and resources.
Developed from a network-operator perspective, BENOCS Flow Analytics lets you deep dive into your network in just a few clicks, enabling you to make on-the-fly traffic decisions in real-time. Using straightforward terminology, we make cross-departmental communication on network traffic easier than ever before.
BENOCS Flow Analytics makes it easy for network operations teams, engineers, planners and quality assurance departments to
track network performance
troubleshoot fast
see the best time to upgrade
Using the same tool, wholesale and peering managers can
find new partners
seek new business opportunities
strengthen customer relationships
reduce transit costs
maximize tranist revenues
strengthen customer relationships
Take a look at some use cases here.
Want to try out BENOCS Flow Analytics?
Flow Analytics is offered as a SaaS product and the pricing for each customer is determined by the following information
peak traffic on the network
total number of routers
no. of BGP- private peers (transit, peers, caches, CDNs and customers)
flow sampling rate
Once the above info is provided, our sales team will come back to you with customized pricing for various bundles. There are four pricing components in BENOCS Analytics. The table below explains the different fees and the services included. Should you have any questions at all, reach out to our sales team, who will be happy to help you!
| | | |
| --- | --- | --- |
| Fee | Services included | When applicable? |
| Service Fee | Software, updates, maintenance of VM's software, training, onboarding, customer support, data quality assurance | Default |
| Traffic Fee | All the services mentioned above for additional traffic usually charged every 100 Gbps/ 1 Tbps steps | Traffic goes above committed peak traffic |
| Hosting Fee | Hosting the entire stack of software in Benocs data center located at Digital Realty in Frankfurt | If you choose BENOCS Hosting |
| Setup Fee | Deploying Analytics in your network and all the services up till Onboarding | If the contract term <= 2 years |
Below you can see which modules are included in the silver and in the gold bundles.
Modules
Protocols required
( Flow & BGP mandatory for all)
Silver
Gold
Flow Explorer
./.

✓

✓

Core Planner
SNMP, IGP / BGP Linkstate

×

✓

Border Planner
SNMP

✓

✓

Customer Portal
./. (Skin CD/CI)

×

✓

SNMP integration (data, graph, auto-scaling)
SNMP

✓

✓

Core flow Inspector
IGP / BGP Linkstate

×

✓

Looking Glass (internal)
./.

✓

✓

Looking Glass (public)
Skin CD/CI

×

✓

Data-Packet XXL (Top200, 5-min…)
./.

×

✓

Application Identifier
DNS

×

✓

Raw Network Analyzer (RNA)
./.

×

✓

Anomaly Alerts
./.

×

✓
BENOCS offers three types of deployment options based on customer's requirements and needs:
BENOCS hosting
Virtual environment installation
Bare metal installation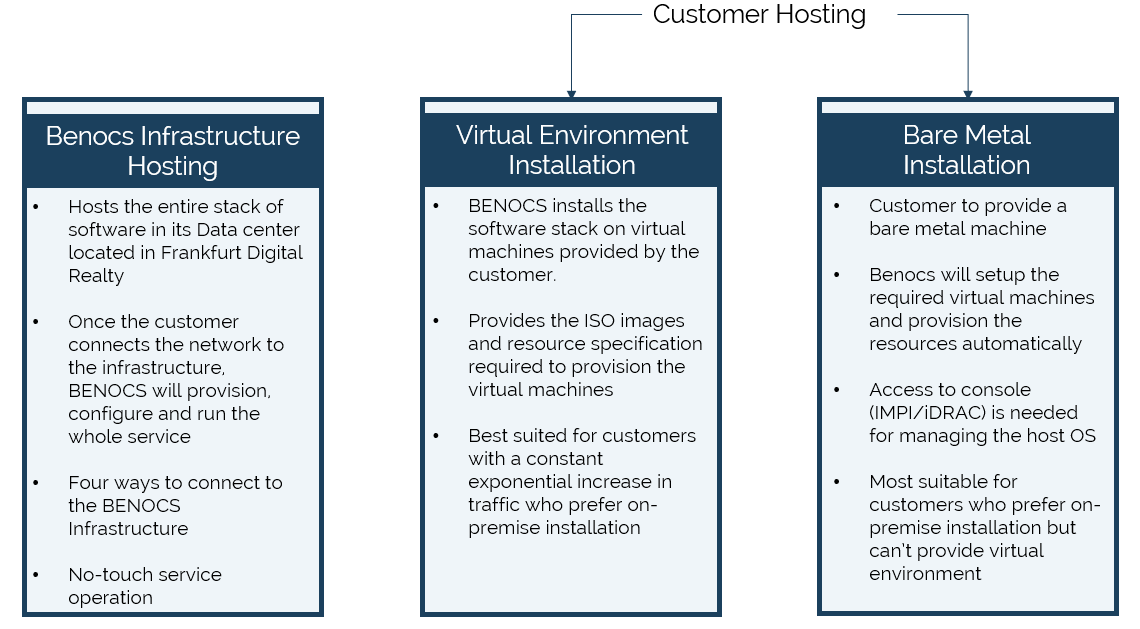 We also offer customized deployment options, depending on your specific needs.